---
SKULL PERSONAL CHECKS
Order skull design personal checks online in a wide variety of assorted styles! Largest selection online includes a variety of designs including everything from cute girly grunge skulls styles to creepy realistic skull designs for the more masculine set.
These skull checks are personalized with your name, address, and bank account number so they can be used for any checking account in the US banking system. Matching skull address labels are also available to match most of our check styles.
---
Diamondplate Skull Checks - Scary skulls will show the world you shouldn't be messed with. Get yours now!
---
Skulls and Bones Checks - These spooktacular images feature skulls, crossbones, hidden treasure and even more. Perhaps you are on your own treasure hunt or are just a modern day pirate, share the wealth with these spooky designs!
---
Skull Patterns checks - 4 different patterns in Black and White.
---
Another One Bites The Dust Checks.... literally. A skull in the desert sand.
---
Neon Skull Checks - 4 grunge images.
---
Cute Skull & Crossbones Checks - Girly skulls and colorful hearts make these personal checks fun and edgy! Click to check them out!
---
Grunge Skulls Personal Checks - assorted pastel colors.
---
Girly Skulls with Bows - 4 different images.
---
Falling Skulls Checks - 4 different images ~ Grunge skulls in pastel colors with heart-shaped eye sockets.
---
Pink Skull with Bow Personal Checks.
---
Skullies Argyle Pattern Checks.
---
Girly Skulls Personal Checks (4) rotating colors.
---
Glass Skulls Checks - Skulls are all the rage right now, so you can't go wrong with these edgy fun glass skulls personal checks! Skulls in pink, blue and green are featured on one check, while a clear glass skull with crossed-bones is featured on the other design in this two check series.
---
Skulls and Hearts Checks - Cute skull with crossbones juxtaposed against a barrage of flying hearts with wings.
---
Skulls with Wings Checks - 4 images black and charcoal gray.
---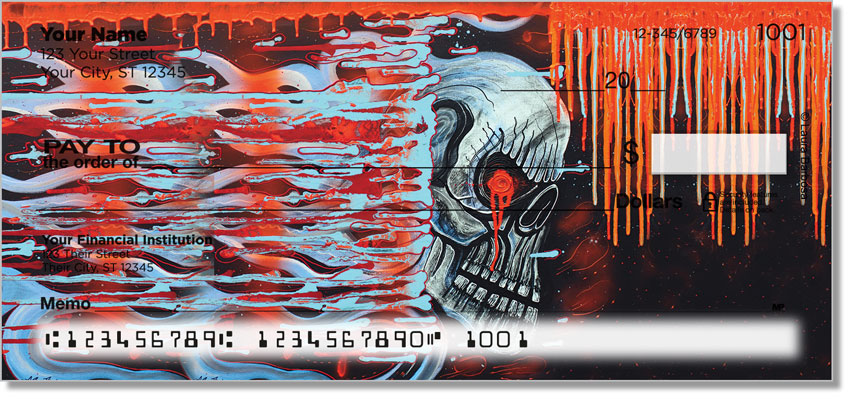 Cool Skull Checks - 4 different badass images.
---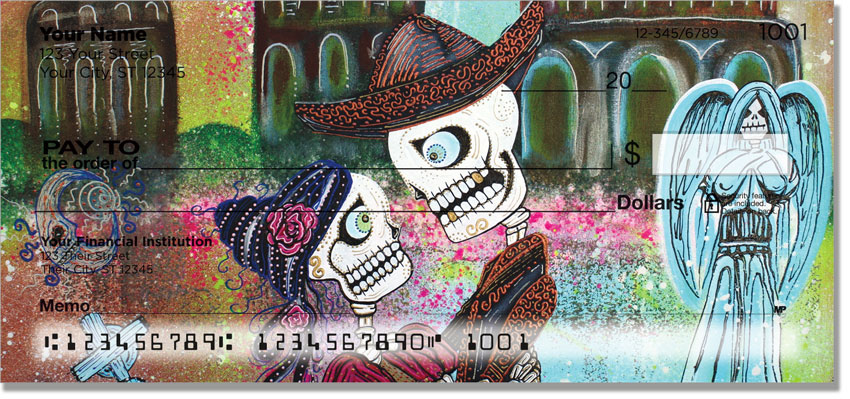 Day Of The Dead Skulls/Skeletons Checks - 4 funky images.
---
Skull Hallucinations Personal Checks - pop art representation.
---
Skull Vibes Personal Checks - pop art representation.
---
Vintage Skulls with Crowns 1 pattern.
---
Skull Heart Personal Checks - Colorful skulls arranged in the shape of a heart over a charcoal gray background. 4 images.
---
Skull Capture Checks - a pile of skulls with spider webs.
---
Think Skulls Checks 4 alternating creepy images.
---
Skull Art Checks 4 drawings with grunge backgrounds.
---
Human Skeleton Checks 4 drawings with grunge backgrounds.
---
Shining Skulls Personal Checks
---
Scary Skull Checks This freaky check design features creep craniums! Click to see all 4 images.
---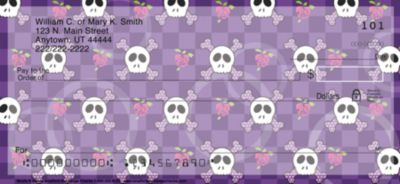 Sweet Skullz Each of the four scenes feature a skull and crossbones with a checkered pattern of either green with stars, pink with hearts, blue with bows, or purple with roses.
---
Girly Skull Fun Checks
---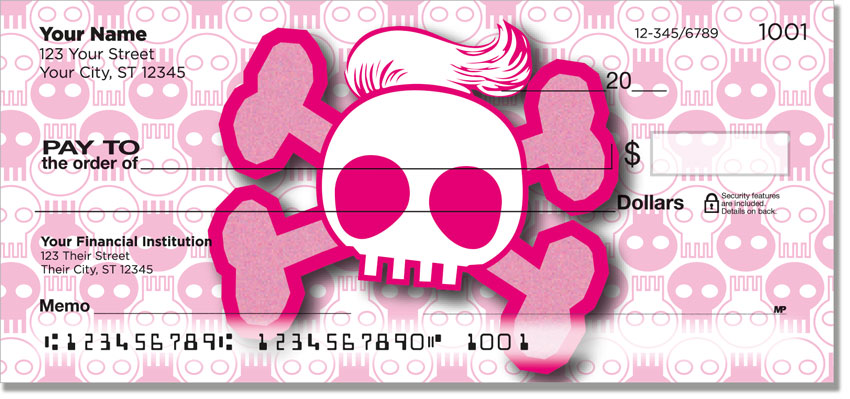 Stylish Skulls with Bows Personal Checks 4 different images and background patterns in mostly pink and purple color tones.
---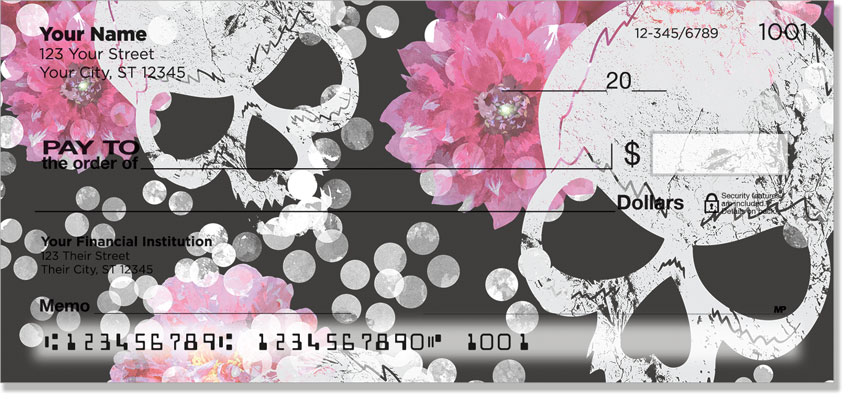 Girly Pink Skulls and Bones Checks Click to take a look at cute checks featuring fun illustrations of lady skulls on a pink background.
---
Damask Skull Checks in 4 different patterns.
---
Seeing Red Personal Checks These in your face designs are sure to get some stares!
---
Earthy Color Skull and Crossbones Personal Checks Come alive or get in touch with your inner skeleton every time you open your checkbook. These Skulls And Crossbones Checks will bring out your inner pirate. ARRR!
---
Skull and Bones Personal Checks are available in single and duplicate check format. Matching address labels and a coordinating checkbook cover are also available.
---
Day of The Dead Skull Mask Checks Click to see checks that celebrate a Mexican tradition with colorful masks!
---
Skulls Looming from Land And Sea Checks - Looking up from the ocean, and down from the clouds above.
---
SKULL PERSONAL CHECKS | MUSIC CHECKS | BEACH/TROPICAL
ANIMALS | MILITARY | CARTOON CHECKS | FLOWERS/FLORAL
PATRIOTIC/AMERICAN | SPORTS & GAMES | AUTO/MOTORCYCLE